>
>
>
Low Profile Hydraulic Torque Wrench
Low Profile Hydraulic Torque Wrench
Brand :jkyeya
Product origin :China ShanDong
Delivery time :3 days
Supply capacity :300set/month
Electric Powered Hydraulic Pump, Hydraulic Oil Hand Pump
Place of Origin: Shandong, China (Mainland)
Brand Name:JINGKE
Model Number: jingke-4
Type: Hydraulic Wrenches
Name: Low Profile Hydraulic Torque Wrench
condition: new
Operate: with special electric wrench pump
Application: loose and tighten bolts and nuts
Warranty: 12 months
OEM service: can put customers' brand
Certificate: ISO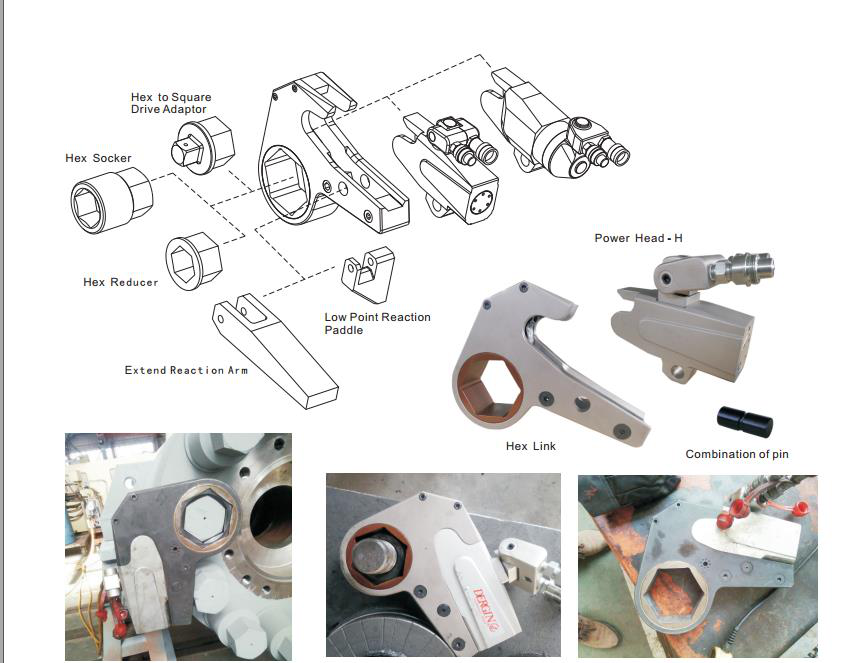 Inherited more than a decade of echnique and technological expereince.
1. Combining modern industrial,streamline-shaped with rigid-solid design
2. Maximum working pressure 70 MPa.
3. Cover all the type in the market, 8 types includes from 255-75221 Nm.
4. Have the fullest coverage of bolts.
5. MXTD series is reachable to maximum torque of 120,000 Nm.
6. Constant torque output provides accuracy ±3% across the entire stroke.
7. Multiple drive shaft options can be installed.
8. MXTD anti-torque force arm is customizable according to on-site
9. any needs you can send mail or skype shemy0123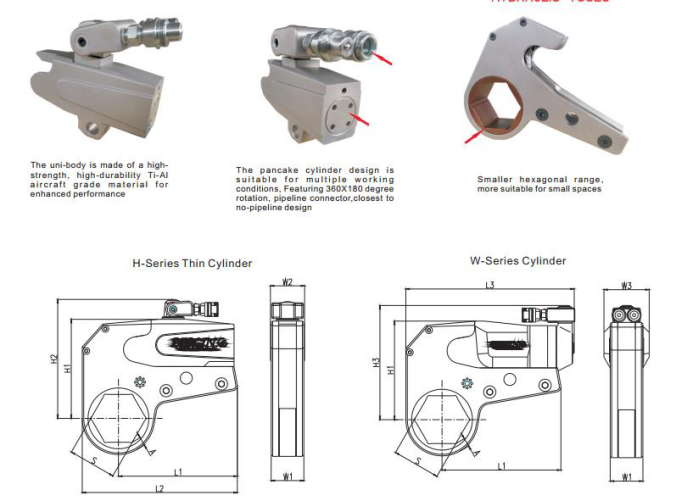 Model

1WHCD

4WHCD

6WHCD

8WHCD

15WHCD

25WHCD

35WHCD

50WHCD

Torque Nm

233

540

769

1212

1992

3363

5385

7522

2326

5399

7691

12116

19919

33629

53851

75221

Range of nuts sizeS(mm)

36-60

46-80

55-85

70-105

80-115

90-130

120-145

130-180

Weightkg

2.1

4.5

7.5

8.9

17.3

25.2

35.5

47.8

L1mm

120.5

156

179

207

237

273

338

382

L2mm

156

202

232

270

309

361

447

517

L3mm

191

232

256

291

335

383

456

539

H1mm

100

119

145

168

197

230

280

320

H2mm

144.5

161

187

210

237

272

345

383

H3mm

142

152

179

200

227

255

294

400

W1mm

34

42

45

53

64

70

84

94

W2mm

36

46

49

57

68

78

92

102

W3mm

50

60

65

75

90

100

118

140

Amm

8.3

11.7

12.8

14.2

18.2

21.3

24.8

30.5
RELATED PRODUCTS
Get the latest price? We'll respond as soon as possible(within 12 hours)